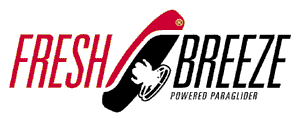 Producer of Quality German Paramotors & Paratrikes since 1989
Fresh Breeze Xstream 19 Trike Wing
​
After a long testing and approval phase, the Xstream has finally arrived.The Xtream glider is designd especially for paratrikes & is extremely easy to launch.
The glider is aimed at advanced trike pilots and extremely stable for flying in turbulent windy conditions. The glider is probably the smallest trike wing on the market.
Tested and aprroved by "German" DIN 79018 and "French" DGAC
The glider come in just one colour scheme as seen in the image.
Please call for the latest price.
​
​
The risers are heavy duty and are fitted with a "A-line" asset for easy hands free launching.
​
​
The Xtream setup with the Fresh Breeze Bullix 4T. The perfect trike wing combo for xc & advanced pilots.
​