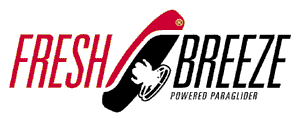 Producer of Quality German Paramotors & Paratrikes since 1989
Fresh Breeze Thorix Xtreme 190
Titanium exhaust making the new Xtreme very light!
The new Fresh Breeze Xtreme engine is the lightest engine we produce with big power.
In order to reduce the weight, Polini has fitted a belt transmission making it much lighter. Fresh Breeze has taken the engine and removed more weight from it to make it even lighter!!
The engine weight with a harness is just 20.8kg. It is therefore ideal as a foot launch system or powerful enough to be fitted to one of our single seated trike.
Features:
Weight 20.8kgs with harness.

Engine 27hp

Engine 190cc

Fuel economy 3-6ltrs/hr

Lightweight cage system.

Compact design.

With or without Flash Starter.

Static Thrust 75kgs.

Modified exhaust to protect the exhaust from cracking.

Suitable for Fresh Breeze trikes.

Suitable for Tandem.

Titanium exhaust.

Titanium hangpoints.

DULV certified.
Titanium hangpoint system
Fresh Breeze has produced an improved ignition system for the 190. This makes the engine more reliable and smoother running.
We are the only manufacturer to do this.
The modification can be updated on any 190 motor but does not allow the pilot to use electric start on their motor.