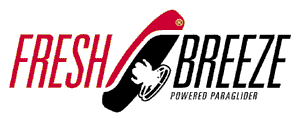 Producer of Quality German Paramotors & Paratrikes since 1989
Fresh Breeze Relax Trike Wing
​
This glider is designd especially for paratrikes.
Even at the start, you can feel the glider is made to fly under power. Directional stability and balanced handling are characteristics that are equally positive.
The fine handling and the speed convinced. Even in unpleasant flight situations, the glider remains exceptionally quiet and does not oscillate.
By high quality and precise manufacture, the sail is fold-free and effective.
​
300 kg RelaX 25 qm
200 kg RelaX 22 qm
​
This means a stabilized screen, which makes the landing and starting easier even in stronger winds.The screen is fast and yet easy to use.
The lines are specially designed for the trike operation guarantee a long service life under tough conditions.
Tested and aprroved by "German" DIN 79018 and "French" DGAC
​
​
RISERS
The belt straps are clearly arranged and kept simple. Trimmers for speed and 2 hang points for the anti-torqe effect. A ring helps you to mount the A-Assist directly on the front of the risers.
The thicker lines of the wing are especially designed for tike flying giving stability, and long lift.
​
​
​
​
PRICE £3100 INC VAT