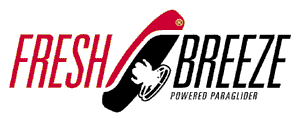 Producer of Quality German Paramotors & Paratrikes since 1989
Fresh Breeze UK Flyin 2-4th August 2019
Welcome to the South West's largest PPG flyin.
The Location is a farm, just a few miles off the A360 or the North Devon Link road. Getting there is easy. You just need to head to the South West, and follow down the M5, then onto the north Devon link at Tiverton to head north to Barnstaple. The postcode EX36 4SB will take you directly to the farm. If you plan to fly to the event, please let me know. Pilots may arrive on the Friday to get an afternoon/sunset flight in.
This year we will have gyrocopters, microlights and other aircraft joining the event.
The location will be in the heart of the county, just 10 miles from Exmoor. For the more adventurous pilots, you can fly easily to the North coast, and fly the cliffs near Minehead. This flight is about 25 miles away, so you will need to plan to make a 2.5 hr X-Country to make it worth while.
The cost of the event is just £25, This goes towards the local Parish Council community projects and the nice farmer for the use of his fields. We offer real running toilets and running hot water & hot showers, rather than a portaloo like most fly-ins!
Families are all welcome as well as dogs.
This flyin-in is for pilots who want to fly, rather than buzzing around the field, so we encourage pilots to move away from the site when taking off, as there is allot of livestock nearby.
Nearest towns are Tiverton or South Molton, which are about 9-10 miles away. So bring plenty of petrol, food and booze..
When you arrive Spencer or myself will be there to help. Please sign in before you do any flying.
This year we will have a caterer onsite selling hot food & drinks.
If you are interested, or have any questions please call me or drop me an email HERE.
The Facebook link for the event is here.