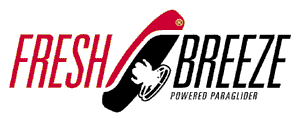 Producer of Quality German Paramotors & Paratrikes since 1989
Fresh Breeze Thorix 190 SportiX
The Engine is light weight but produces big power.
In order to reduce the weight Polini have fitted a belt transmission making it much lighter.
The engine weight without harness just 23 kg. It is therefore ideal as a foot launch system or powerful enough to be fitted to one of our trike.
​
Features:
Weight from 22.5kgs with lightweight harness.

Engine 27hp

Engine 190cc

Fuel economy 4.5-6ltrs/hr

Lightweight cage system.

Compact design.

Flash Starter.

Static Thrust 75kgs.

Fitter with " Helmholtz tub" for smooth and stabilized running.

Modified exhaust to protect the exhaust from cracking.

Suitable fot Fresh Breeze trikes.

Suitable from Tandem.
Lightweight engine with
a flywheel pully for explosive power!!